2020 New York City Trip
March 14-19, 2020 Canceled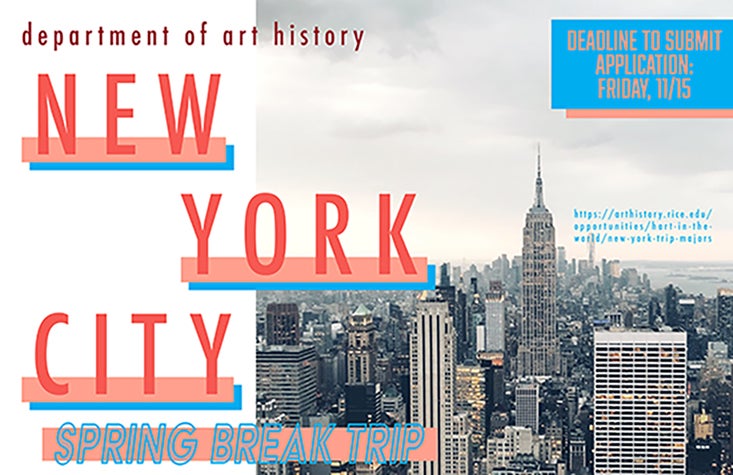 Led by Associate Professors Gordon Hughes and Fabiola López Durán
Over the course of five days, undergraduate students visit sites such as the Metropolitan Museum of Art, Guggenheim Museum, Museum of Modern Art, Frick Collection, Morgan Library & Museum, and the Whitney Museum to experience, discuss, and interact with works in the museums and collections of New York. This is meant to be an invigorating, engaging, and entertaining trip for art history majors or any student with a demonstrable interest in the history of art and the world of its making, curation, and exchange.
Students are asked to cover only their meals and subway fares. Airfare, transportation to and from airports, hotel, and museum admittance are all covered by the Department.
The New York trip is open to current Rice University undergraduate art history majors and any student with a demonstrable interest in the history of art. Students will be asked to fill out an application to be considered for the trip.
---
How to apply:
Fill out the Adobe Sign application, which should include an unofficial copy of your transcript and a 500-word statement of interest explaining your reasons for wanting to participate in the New York Spring Break 2020 trip. Include information about courses you have taken or anticipate taking at Rice that would support or be supported by the trip, the relevance to your major(s) or minor(s), and/or other relevant experiences or motivating factors.
Instructions for new Adobe Sign form: Fill out the application form below and upload the required documents within the form. Then, sign and click submit at bottom of page. Fill out the pop-up window with YOUR name and Rice email. You must check your email and approve the email from Adobe Sign or the application will not be submitted.
Application deadline:

The Spring Break 2020 NYC Trip application is now closed.
Questions? Email arthist@rice.edu.