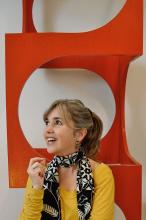 Dr. Fabiola López-Durán
Director of Undergraduate Studies,
Associate Professor of Art History |
Modern and Contemporary Latin American Art and Architecture
120 Herring Hall
713-348-4196
fld@rice.edu
Contact Prof. López-Durán for advice on Art History courses, information about major requirements, transfer credits, and to declare an Art History major.
Fall 2020 Advising Office Hours: Every Wednesday and Friday (until December 4, 2020) | 3:00-4:00pm CST
Students may meet with Prof. López-Durán online via Zoom or in-person. Zoom meetings are highly recommended, but if in-person meetings are imperative, they will take place outdoors. Please e-mail Prof. López-Durán to schedule a meeting or register for a Zoom meeting here.