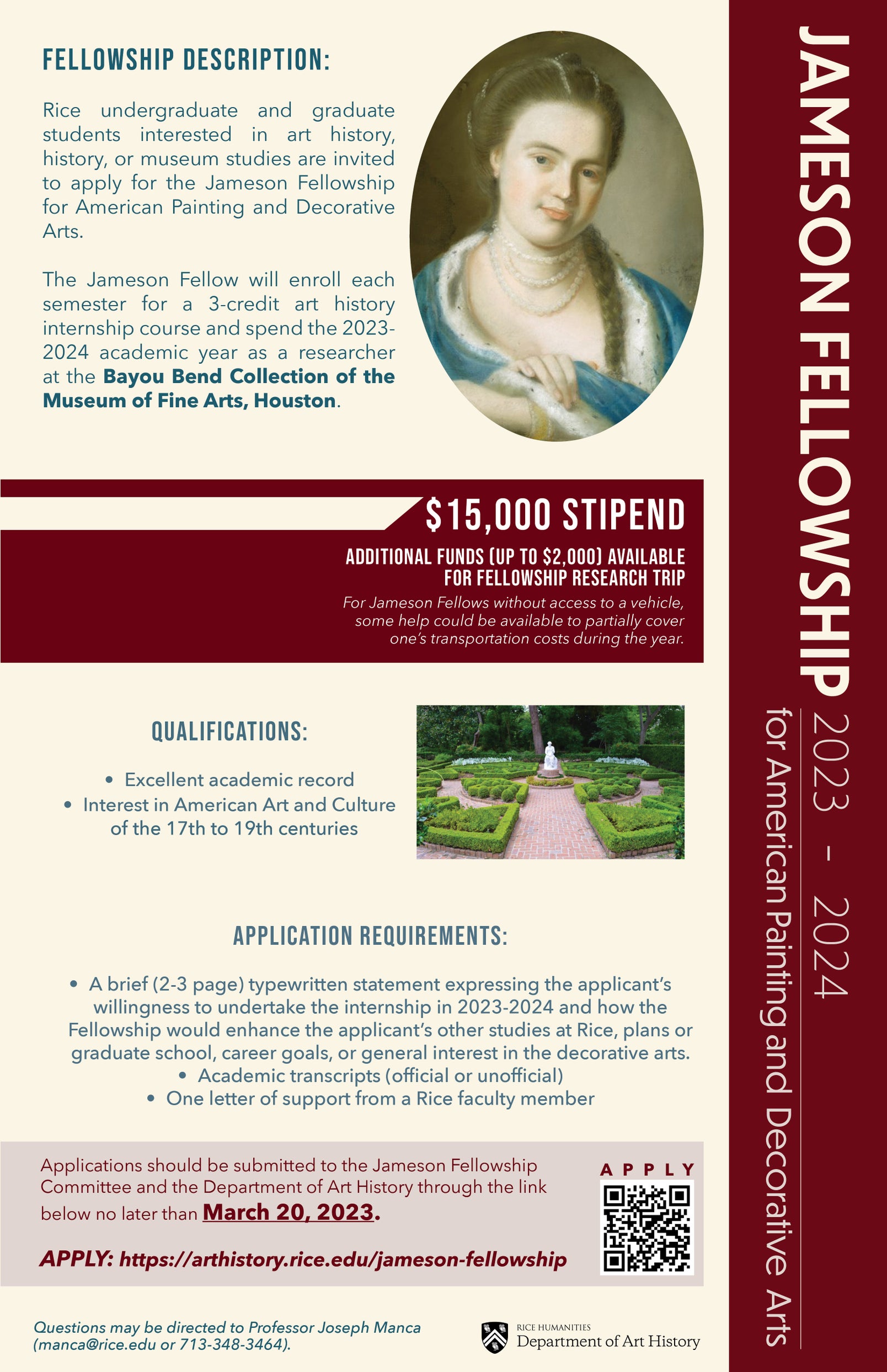 The Jameson Fellow will spend the academic year as an intern at the Bayou Bend Collection of the Museum of Fine Arts, Houston. Bayou Bend is regarded as the best house museum west of the Mississippi and contains an outstanding array of American painting, sculpture, and decorative arts from the colonial period through the 19th century. The stipend is $15,000. Additional funds (up to $2,000) are reserved for a research trip during the time of the Fellowship.
In preparation for applying, it is recommended that students acquaint themselves with Bayou Bend either by visiting ( call 713-639-7750 for details or visit: www.mfah.org/visit/bayou-bend-collection-and-gardens/) or browsing the catalogue of the collection by David Warren, Michael Brown, Emily Ballew Neff, and Elizabeth Anne Coleman, American Decorative Arts and Paintings in the Bayou Bend Collection (Houston and Princeton, 1998).
This catalogue is available in major bookstores in Houston, including the one in the Museum of Fine Arts, and is found at Rice in the Brown Fine Arts Library (call number NK805 .A675 1998, library use only).
All graduate students and undergraduate students (excluding graduating seniors) of any major are welcome to apply.
Undergraduate students successfully awarded with the Jameson Fellowship will be required to enroll in three credits of HART 400 in the fall semester and 401 in the spring during their museum internship. Graduate fellows will be required to enroll in three credits of HART 501 in the fall and spring semesters.
Please email arthist@rice.edu for more information.
---
DEADLINE: Applications are closed for 2023.